It's been a very busy week and I unfortunately didn't have much time to catalogue outfits or even keep up with my fashionspot surfing/google reading. But I did put some extra thought into the outfit I wore yesterday so I thought it was worth taking some time to post. Here is a comparison of what I actually wore yesterday (a bit further down) with how I would like to be wearing it (directly below), if the weather were nicer, and if I had something else to do besides trek around campus.
The green lace turtleneck is actually my mother's. We steal each other's clothes a lot. She likes to shop second hand just as much as I do. And probably has more time to do it these days (I'm very jealous).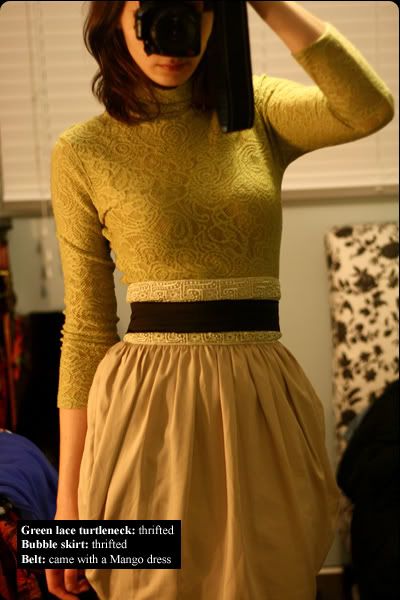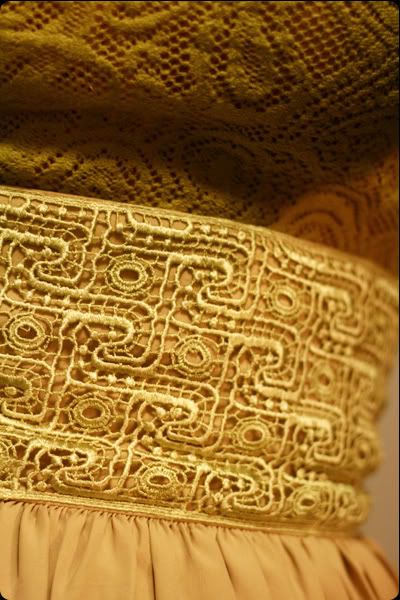 I did actually go shoe hunthing this weekend but didn't end up buying anything. I found some lovely buckled ankle boots from Aldo but they were completely out of my size (make more 41s people!). I didn't see the Nine West pair that I'm lusting after (which apparently didn't blow you all out of the water. Oh well, I'm still in love).
I also went to a sci-fi themed goth night on Saturday, feeling a bit out of place because, as I was just coming from my grandmother's birthday, my topshop jodphurs and plain blue sweater combination just seemed so boring compared to the sea of PVC bubble skirts and silver trenches. Luckily I have another chance to dress up at my friend's space themed birthday party at the end of the week. There will be pictures of neon! And there will be tin foil! Or so I was promised.