After last night's round of too much fun, I woke up today with a vicious hangover that refused to go away until I filled my stomach up with delicious Mongolian food. Actually, the headache is starting to creep back in now too, maybe it's my stomach's way of saying feed me.
Luckily by afternoon the worst of it had passed and I was able to check out today's Etsy meet-up sale without looking like, well, a very grumpy hung over person.
I wore my Forever 21 tights out again, I've become a bit attached to them now that new outfit ideas are popping up in my mind. Last night at the pizza shop a girl oohed and aahed over them, asking if they were American Apparel. Nope! I couldn't actually afford
this pair
so I went for the Forever 21's instead. I secretly like the AAs better though. But I hear that they're actually all different, so I wouldn't know what exact pattern I'd be getting.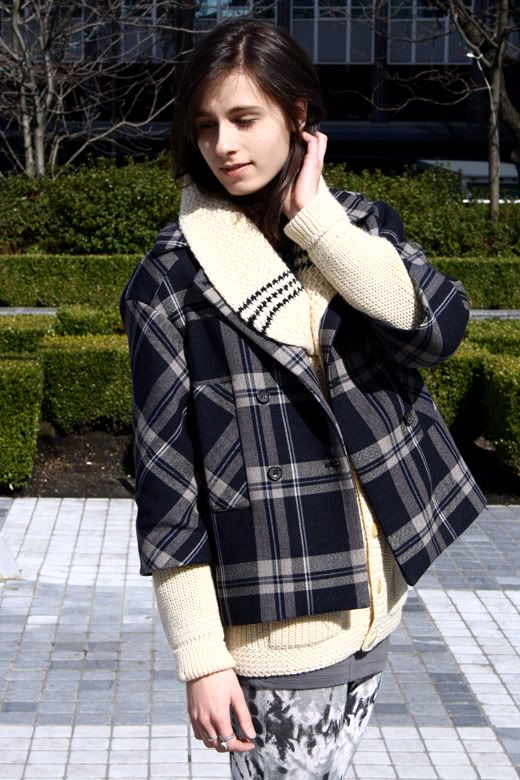 I also stole my boyfriend's sweater again, and paired it with an H&M skirt, plaid shirt (also stolen from the bf), Zara jacket and Aldo heels.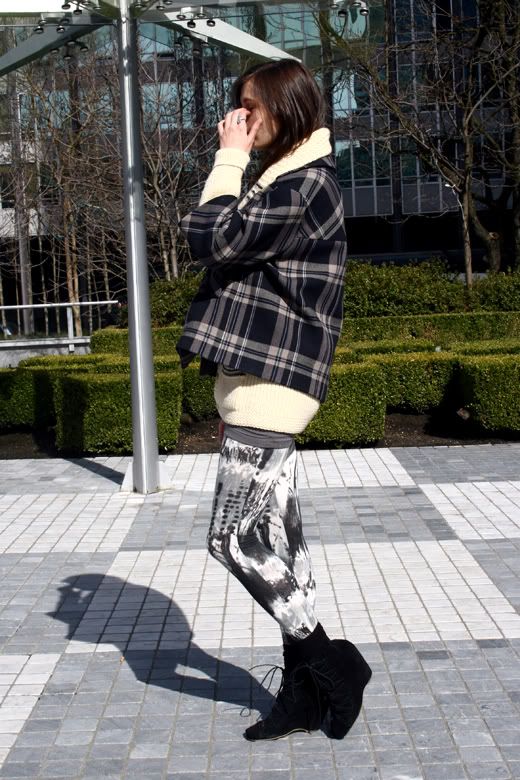 This jacket sometimes makes me look like a turtle. I guess it isn't the best choice for someone who already has bad posture, but I'm still in love with the shape. If my arm wasn't drawn forward, it would slightly resemble the shape of this gorgeous coat, shot by the Sartorialist: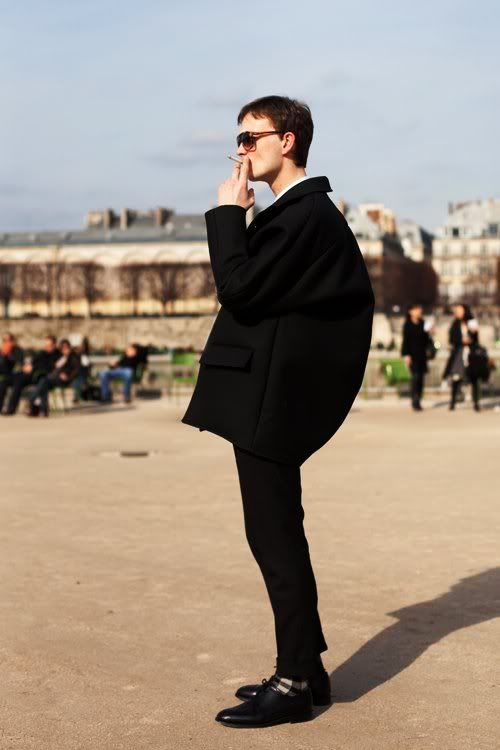 Although it obviously isn't quite as extreme.
Here is the shirt I picked up from the Etsy sale, made by the lovely, and very nice, Condie from
Shop Nap
. All of her designs are reworked vintage. Some of the best items aren't even posted in the store though! Like a lovely extra-long fringed leather vest. Aside from my purchase, I also really liked the
80s Oleg Cassini jacket
,
magenta tie-dye trench
, and
hand-painted bird pieces
. Thank you Condie for chatting with me while I waited for the boy to return! It's so nice to be able to speak fashion with someone outside of the internet.
I guess this this summer's tie-dye obsession is the new floral obsession for me. Although I'm sure you haven't seen the last of florals on this blog.