For those of you who may have been reading my blog for a long while, you might be familiar with my sudden unexplainable long absences. So, what have I been up to this time? Umm... Reading sci-fi novels, watching the entire first season of True Blood, becoming completely addicted to the Sims 3, and so on. I am just a champion at wasting time doing not very much at all... but fashionably so!
Here's a run through of some outfits I've worn the past couple of weeks. I love stepping it up a notch when I'm going out, but sadly most of the time I've been sporting jeans and tees because all I do is read at home and then go off to work, where sneakers are a necessity for the many hours spent walking and standing.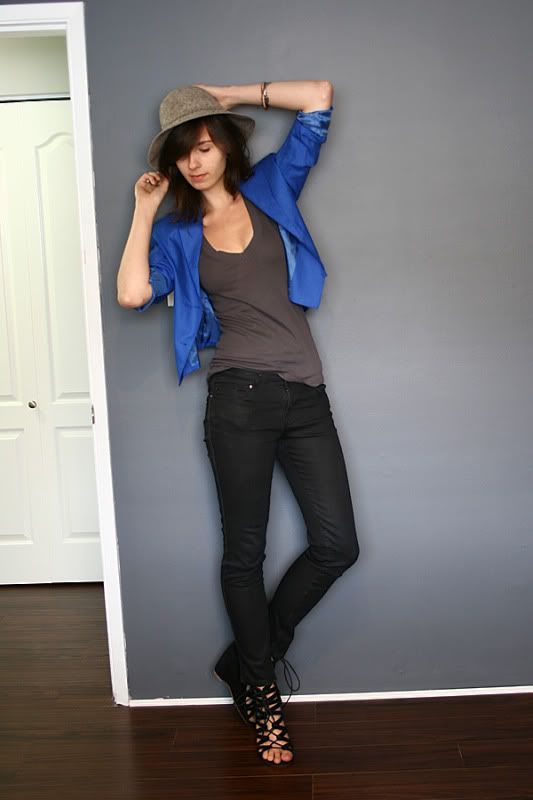 Today I'm wearing a beautiful blue thrifted blazer that I'd love to pair with orange, had I anything in the colour in my closet. So while I think of a more interesting way to do this rich colour justice, I'm wearing it with simple greys and blacks. The jeans are from Zara, the shoes are Aldo, the hat is thrifted and the shirt is from Old Navy.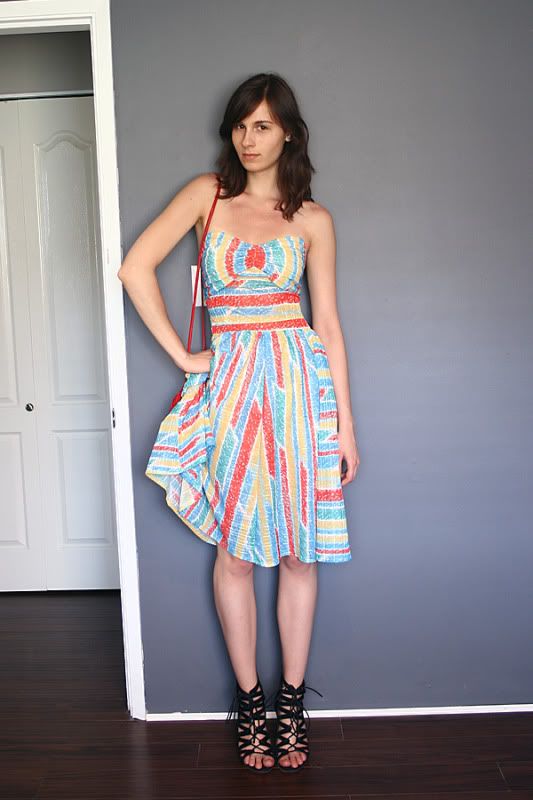 I wore this dress when it was much hotter a couple weeks back. You may recognize it from my banner at the top! I sketched the look of the dress and my grandmother drafted the pattern and whipped it up herself. The dress is a few years old, and we haven't really collaborated since. I'm feeling a bit neglected now that she's too busy looking after my uncle's nutty German shepherd puppy!
Why would anyone need two different pairs of tie-dye leggings and shirts in their closet? I don't know, but I can't keep myself away from the pattern. This leather jacket is my favourite thrift find of the month. It's a gorgeous buttery suede, a nice alternative to the cropped black leather jackets that everyone has been sporting for ages now.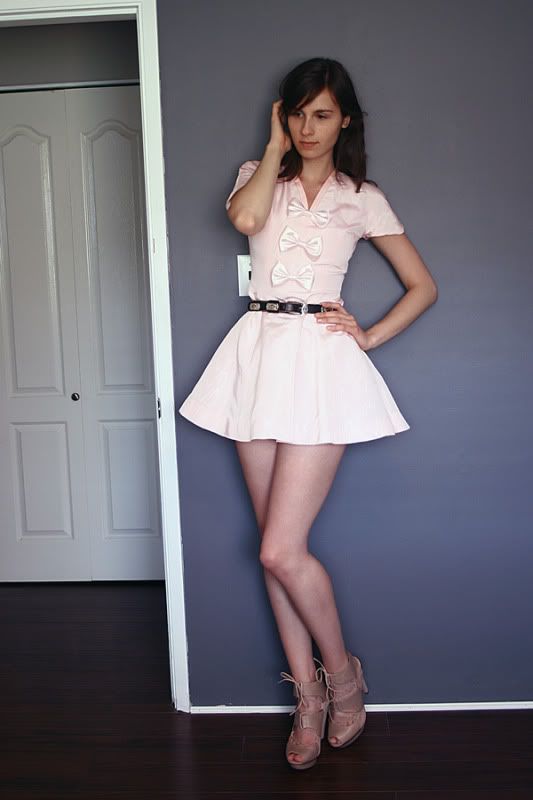 And lastly, a little number I've hidden for too long in my closet which I decided to wear out for a Patrick Wolf concert a couple of weekends ago. Sadly, I didn't make the concert because the bums running the club decided to have the show end early so they could open up the club for the rest of the night. I was just getting off of work and wouldn't be there in time to catch his performance. Did anyone go to the concert? I know it wasn't even sold out. Man, Vancouver sure is slow on the uptake. But anyways, I ended up attending another party, a masquerade, where my dress blended in perfectly. I received a discount on the ticket because I showed them my "costume" which really wasn't my intention with the dress at all. Heh.
I'm off to catch up on e-mails now. I feel guilty, whenever I don't blog for a while I completely shut myself off from anything fashion related, including e-mails, news, other blogs... Does anyone else do this?