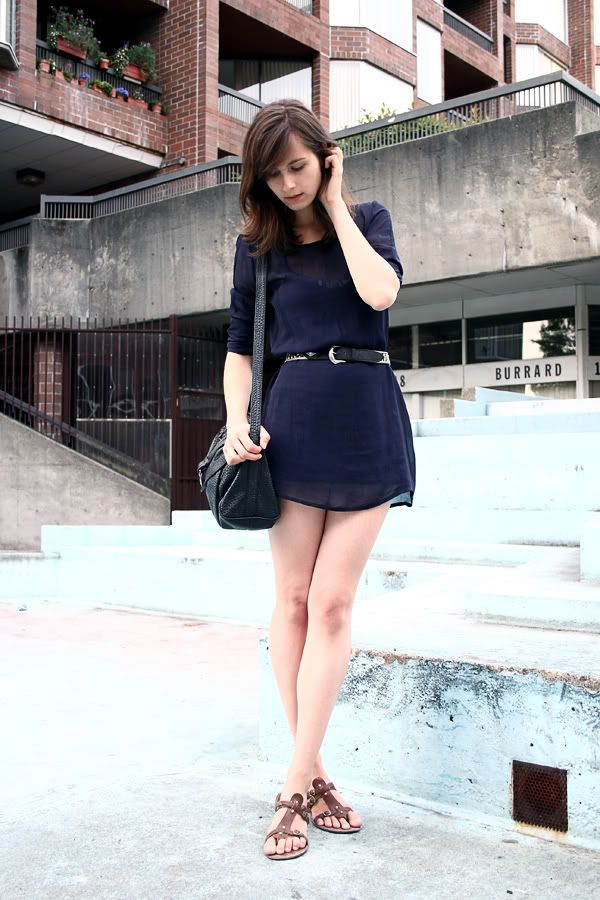 Wearing a thrifted sheer dress, bag and belt, sandals from Payless and black tank dress underneath from Winners.
Yesterday I went shopping before my shift at Value Village and purchased two dresses. The first is a sheer number that I'm wearing in the above photo on top of a black tank dress. It was absolutely beautiful outside today so I stopped by the beach to get some sun. The colors are dark but with a light breeze and sheer fabric it felt just right. The second dress I will post about later because it's a bit of a diy project. It has some very revealing sheer panels on the side which I would like to replace with stretchy nude fabric. The panels also had a few holes in them so leaving them in is out of the question. But why did I even by this dress? The form the cut outs make is just amazing. Look forward to it soon! I'm hoping to get it all done on my day off Monday.
PS: I played Rock Band tonight. I think my character looks like someone threw in a bit of Chanel, a touch of Givenchy, a sprinkle if the Sex Pistols and a science lab skull into a magical rock star blender. Nice, eh?