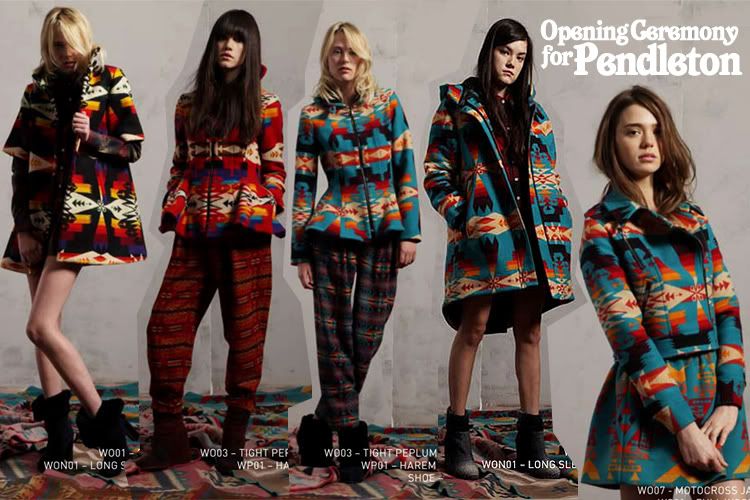 Images via
Coutorture
As soon as I laid eyes on the Opening Ceremony for
Pendleton
collection I fell in love. The 100-year old heritage brand lent it's iconic Navajo prints for a celebratory capsule collection. This is probably my favourite brand collaboration as of yet. The pieces are extremely modern, with on-trend peplum and cape silhouettes, yet the stunning traditional prints are steeped in rich history. The colors are simply amazing. I can't stop staring. Below is an excerpt from the Pendleton website.
In 1863, traveling down the Atlantic seaboard, crossing the Isthmus of Panama on a burro, and sailing up the Pacific coast was a grueling four-month passage. Yet for Thomas Kay, a young English weaver, it was a dream come true. An old hand at sea voyages, he had already crossed the Atlantic years earlier to work at east coast textile mills. With skills honed, he was now headed to an area with ideal conditions for raising sheep and producing wool. A place with moderate weather and plentiful water - America's newest state, Oregon.

Kay helped organize Oregon's second woolen mill in Brownsville, where he oversaw the weaving operation. Soon he was made a superintendent of the company. In 1889, Thomas Kay opened his own mill in Salem, Oregon. From these humble beginnings rose a dyed-in-the-wool American success story...

...The production of Indian blankets resumed as the Bishops applied intuitive business concepts for quality products and distinctive styling. A study of the color and design preferences of local and Southwest Native Americans resulted in vivid colors and intricate patterns. Trade expanded from the Nez Perce nation near Pendleton to the Navajo, Hopi and Zuni nations. These Pendleton blankets were used as basic wearing apparel and as a standard of value for trading and credit among Native Americans. The blankets also became prized for ceremonial use. Under the direction of the Bishop family, Pendleton expanded into other areas of woolen manufacturing. In 1912, the addition of a weaving mill in Washougal, Washington, broadened its capability for fabric variety, including suitings.

As I was browsing the Coutorture website for the above collage, I noticed a commenter who claimed that Opening Ceremony was ripping off designer
Lindsey Thornburg
. Having never heard of her, I did a quick search and discovered more wonderfully cozy wool capes! For her most recent collection, Lindsey journeyed to Machu Picchu where she was very inspired by the Highlanders' boldly colored attire. I can relate to her love of their traditional costumes, as I have myself admired them (sadly only in books) many times. I'm not really bothered by who copied who, but I would like to snag a similar item myself. My only hope would be to a) miraculously discover something at a thrift store or b) wait for a highstreet store like Zara to pick up on the trend. Actually, I have seen similar blankets around, but they are far too rough and itchy to wear as clothing...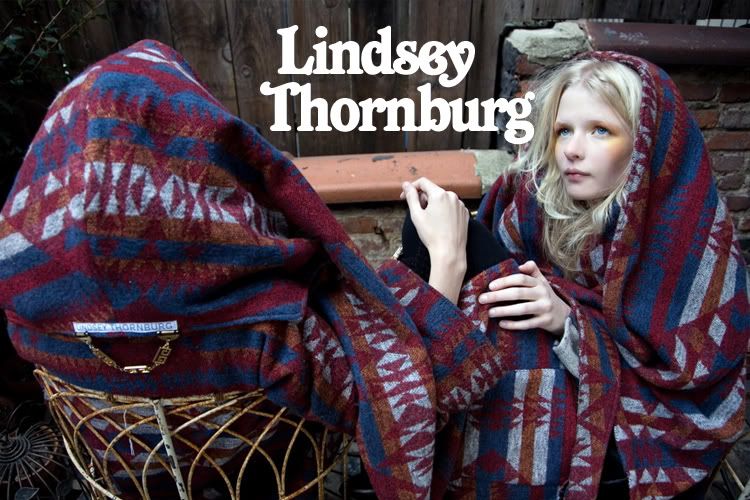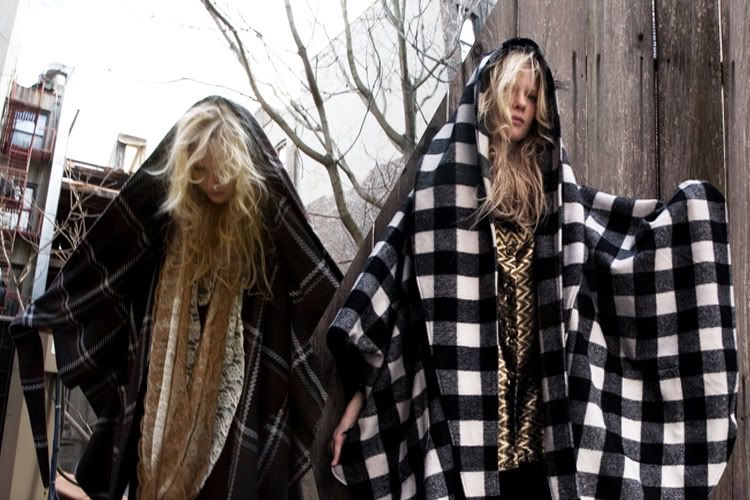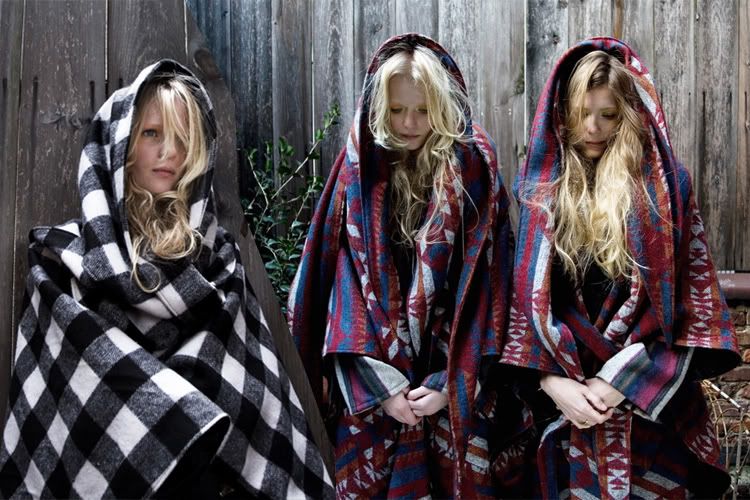 Images via
LindseyThornburg.com
After having been inspired by these two amazing collections, I decided to wrap myself in a few cozy pieces of my own. Not quite the same, but it's a start. Luckily, we're having a very chilly and rainy 14 degree day today. I'm wearing a thrifted Ralph Lauren Polo cardigan, thrifted grey wool cape, Zara jeans, and a Romanian scarf handed down from my mum. I should have shown the scarf a bit more in the photo. It's much larger than it looks and the beautiful print is very much in the theme of today's post.