So the much anticipated collaboration between H&M and Comme des Garcons is finally starting to take shape. When I first saw photos of the pieces individually I wasn't very impressed, but they have done a fantastic job styling the collection. It does look like Rei Kawakubo stayed true to her form.
I'm in love with the deconstructed jacket in the fourth photo, which reminds me of the CDG ss 2007 collection. I'd love to see it layered overtop of piles of sheer mesh to complete the effect.
I've also been forced to reconsider polka dots, a pattern I've never had a taste for. The third picture could almost be polka-dotted overload but with that scarf on top it is now speaking to me. The shorts are a cute addition. They'd look great worn with black tights and chunky booties and a slim wool blazer for cooler weather.
The only miss for me are the harem or dropped-crotch pants. I've seen them done well in other collections, but these just look like a sad case of sagging diapers. Sorry.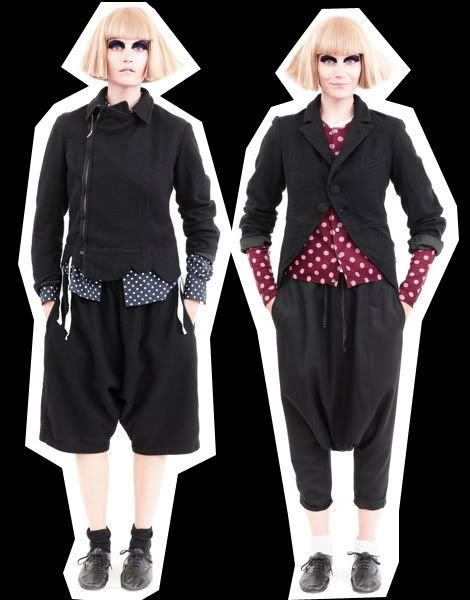 Photos from
nitrolicious.com