This morning I woke up very early (considering I no longer have classes now) to head over to the Dressew fabric store right at its 9:00 opening time. I spent about an hour browsing through the many aisles of colorful fabrics, trims, zippers, feathers, sequins, and everything else imaginable to do with clothes. I had no particular plan in mind, but armed with my trusty camera, I took note of anything and everything that happened to catch my eye. Here are some of the photos I took, along with captions of what thoughts were percolating in my brain at the time.
I really do love the combination of
orange and pink
. I could see these being worked in to a silky blouse and flouncy mini.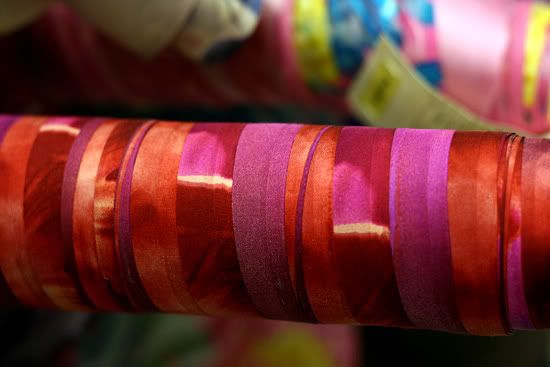 Orange and pink again! How about twisting and folding the fabric into a colorful dress a la
Ungaro
?
I don't know what I was thinking with this one. Maybe mixing it in with something sheer or silky?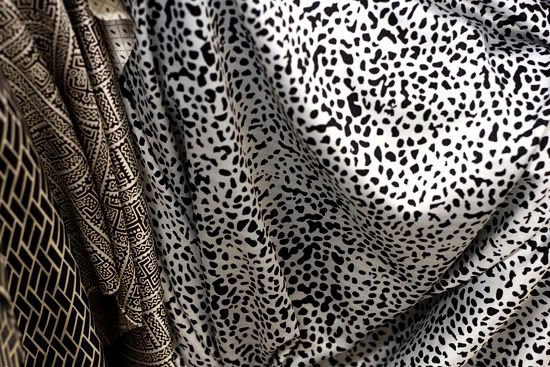 I love this splatter print!
The white or black version of this would make a great pair of leggings. But why not other colors too?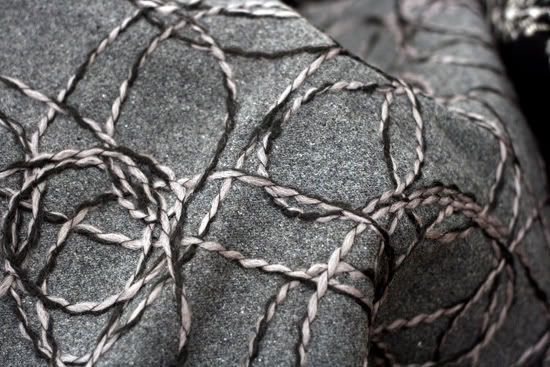 As simple sculptured strapless dress? Or bustier worn over sweaters?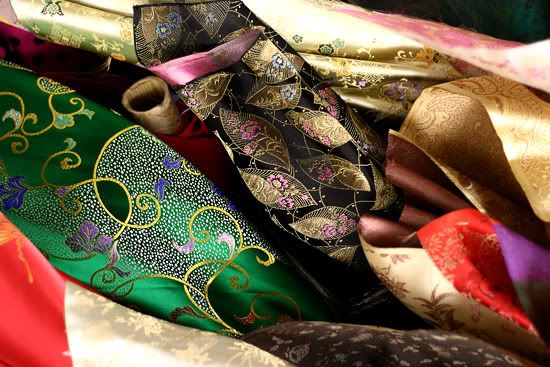 Nice accent prints. Would look great as the lining of a jacket.
Is it crazy that I want a dress from this shredded material? At least a skirt?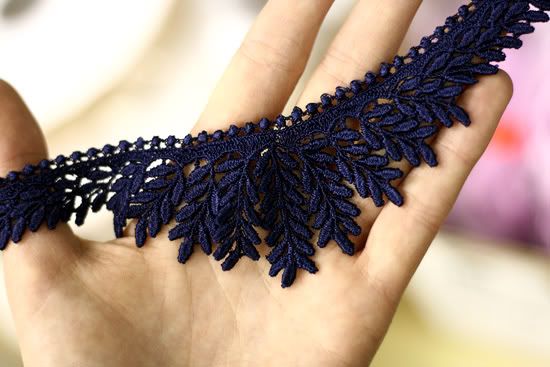 Very pretty lace detailing. Would make a nice necklace/collar with many of them.
I always liked how the girls from Gossip Girl wore ribbons around their neck sometimes instead of ties.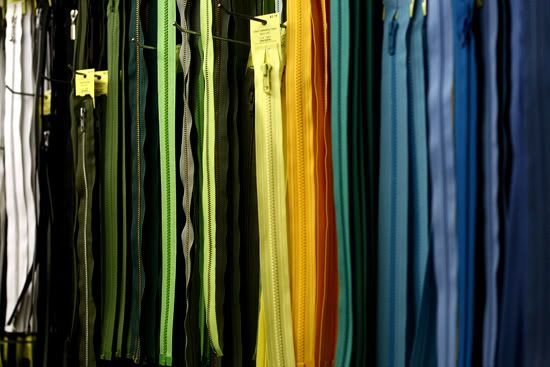 All of the neon zippers you could possibly dream of. I wonder if my grandma would be able to make a
layered zipper necklace
?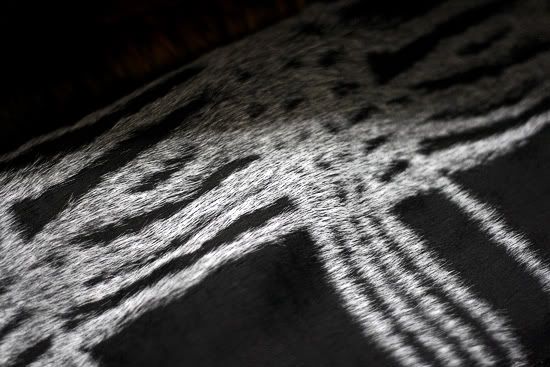 Faux fur in a sort of plaid-like pattern. This would make a gorgeous jacket.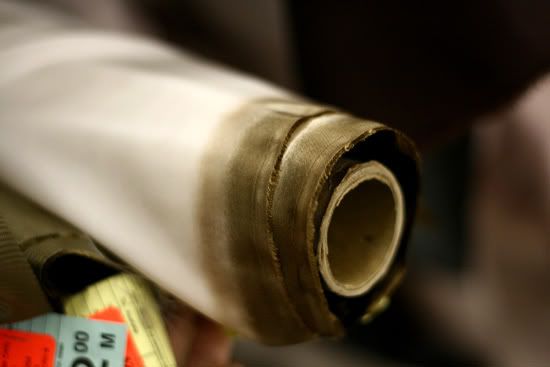 I love how some fabrics are stained around the raw edges. For some reason it brings to mind something that Prada might do. I will ask if they have entire fabrics with this sort of stained effect next time. It's so pretty.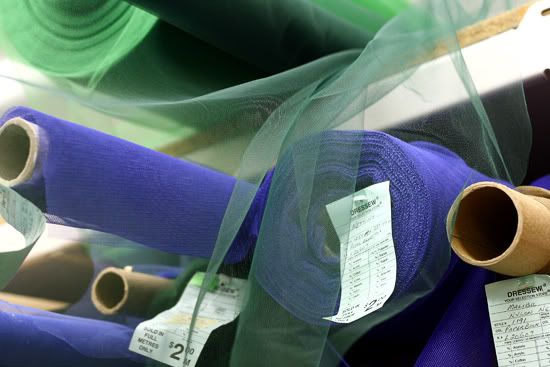 Green and blue would make a nice color combination as well.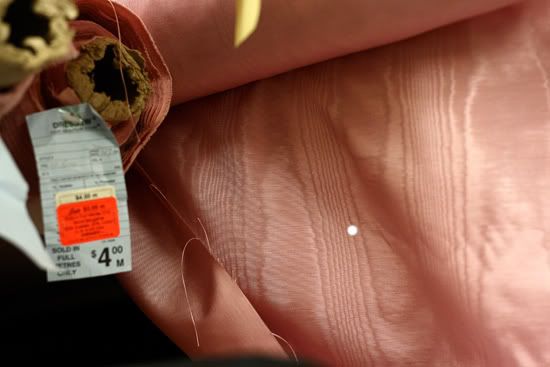 I love this moire pattern! I have a light blue skirt in a similar fabric that I haven't posted about it. I want it shortened a bit.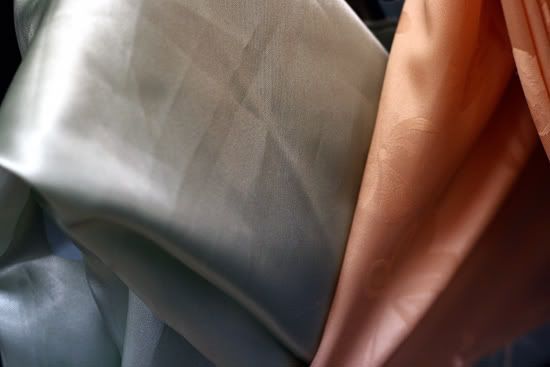 I'm starting to appreciate soft color palettes more. Again, these would look nice as a silk top/skirt pairing.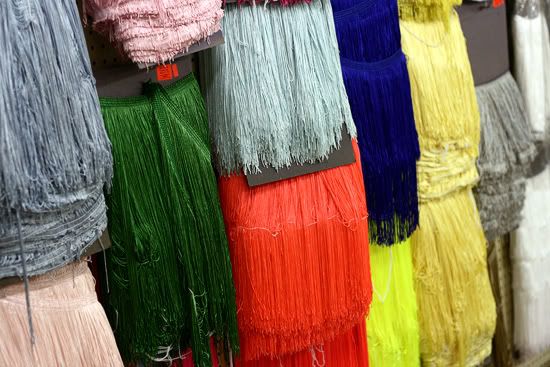 The wall of fringe! I want a dress in the light blue or grey.
I could see this rope being twisted into a spiral circle and added on top of the shoulders of a blazer. Are you guys still with me or is this post way too self-indulgent?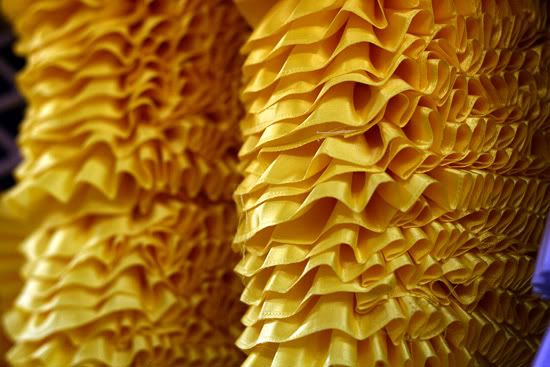 Neck ruffles?
And last but not least, after scouring the entire store, I finally stumbled upon my beloved blue pleated trim. I thought they didn't have it anymore! It's rather odd to be so obsessed over trim but there you have it.
It was certainly a lovely way to start the morning. I then grabbed a chai latte and cradled it smiling happily on my skytrain ride home. I didn't even buy anything but I was still left with a pleasant buzz for the rest of the afternoon. Now it's time to get back to those practice exams that seem to be glaring at me crossly for being neglected.