When I browse through collections during fashion week, I sometimes get so caught up in looking for something fantastical and new that I forget to look at the little details. For the past two seasons since Estaban Cortazar has taken over at Emanuel Ungaro, I have overlooked the collections by merely taking a quick glance at thumbnails and deciding that there was nothing much to see. Last night as I was thumbing through an older issue of British Vogue and the most beautiful print I have ever seen caught my eyes. Surprise suprise! It was the light wood print from Estaban Cortazar's debut collection at Ungaro.
I love the braiding, twisting and draping on the pieces in this collection. It also features my new favorite color (for the moment): light grey-blue. But the wood grain printed chiffon stole my heart. I hope to come across something similar when I my exam schedule allows for a much anticipated trip to the fabric store with my grandma. Here's hoping!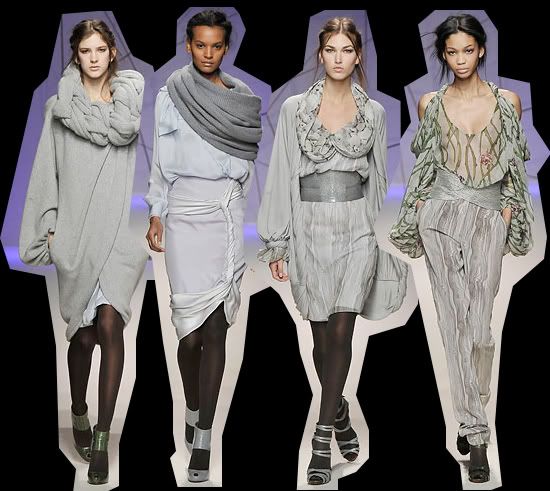 In comparison, his spring/summer 2009 collection wasn't quite as appealing, but it did have a few treasures in the mix. How about an eye-catching rainbow of beautiful prints?
Images from style.com