Ok, I admit, this photo is very inspired from Tommy's photography at
Jak and Jil
. What can I say, his shoe shots are always on my mind. With that disclaimer out of the way, I would like to introduce my new shoes: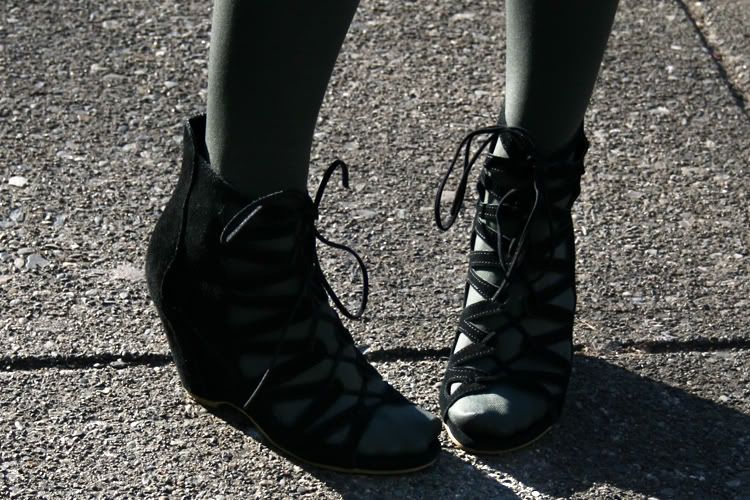 I've been needing a pair of lower heels in black for school-wear, so I went into Aldo looking for a good bargain on last season's items. I was supposed to limit my search to black ankle boots. Unfortunately, or fortunately, I ended up buying these at full price instead. They are insanely comfortable since you can adjust the width of the strings spanning across the foot. I guess the main objectives have been fulfilled. Comfortable: check. Black: check. Goes with everything: check. Stable heel: check. Price? Meh, at least I didn't really break the bank.
I just hope these shoes don't become as ubiquitous as last summer's Nine West gladiator wedges.
I was also planning to look for a grey grandpa-style cardigan to replace my old one that has mysteriously disappeared. The only suitable replacements I found were rather ridiculously priced. Actually the prices of many items in general has gone up. Four years ago I could buy gorgeous leather boots at Aldo for $100-120. Now the sandals alone are more expensive. Inflation or pocket gouging? Hmm...Actually I'd prefer the latter because the former scares me. At the rate our governments are inflating the money supply to try to fix the crisis... I should stop there before I word vomit a lecture about the Austrian theory of the business cycle. But I do encourage you to look it up if interested!
What I wore today: