Yesterday I realized I couldn't find anything in my closet anymore and decided to clear everything out and put it back in in a more orderly fashion. I couldn't believe how many random clothes I have! Who needs so many? Honestly, I think I might have a thrift shopping problem. I think about 70% of my closet is second-hand. But I couldn't manage giving anything away because I like the pleasant surprise that comes with shopping your own closet and rediscovering something you had forgotten.
I'm wearing an old thrifted jacket in the first outfit photo below. I decided to give the yellow/pink combination one more go. I love this outfit but it isn't very practical because the yellow tights I cut into shorts and socks either roll up or down all the time and I'm constantly adjusting them. Good idea in theory, oh well. I'm liking the yellow/flesh tone/yellow/flesh tone action going on.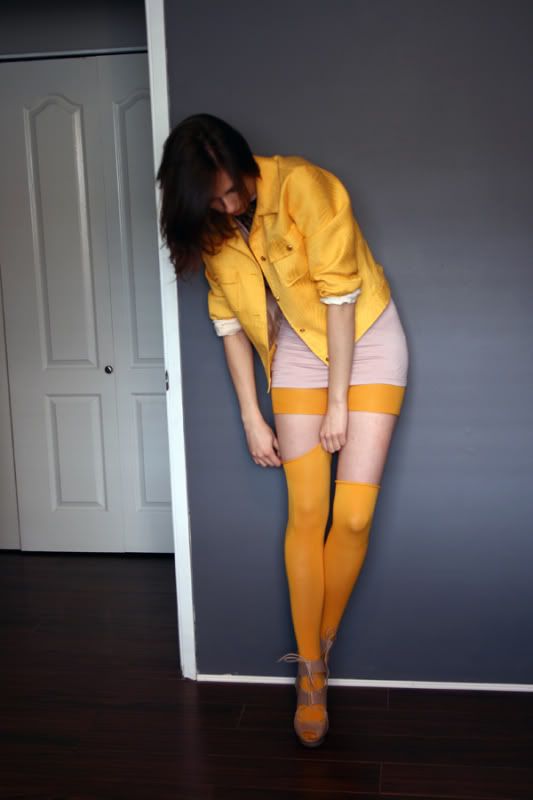 And here are my new Aldo shoes. They were a rather smart buy, extremely comfortable and extremely stylable. They are also a match made in heaven with yellow. Thanks to everyone who shared their advice on necessary shoe colours! I think these slightly pinky beige heels were the answer I was looking for. The next step? Finding a range of flats, of course. But I'm broke at the moment, so that will have to wait... A long while.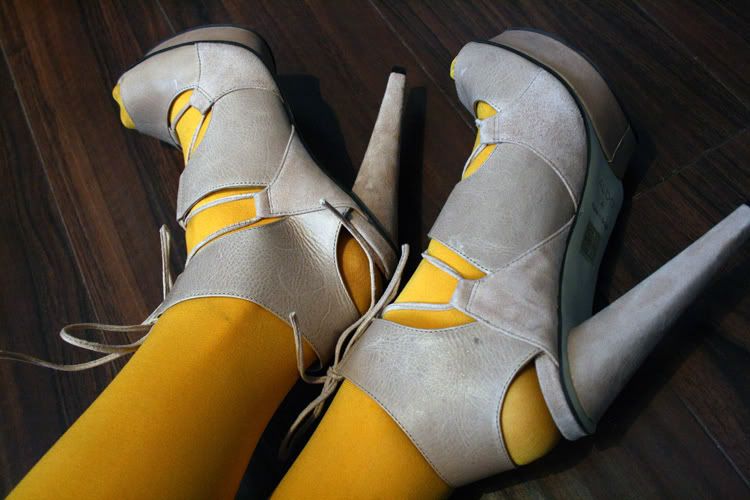 And for those who have been waiting to see the Tsumori Chisato top I thrifted last week, I'm wearing it below! When I first picked it up I thought it was a rather crafty-looking piece that was probably made by a local Vancouver designer. But when I tried it on, I loved the way the lace detailing stood up from the shoulders. I couldn't see a label anywhere so I had no idea who made it, until I tried it on at home and saw the label hidden on a side seam near the bottom! Lucky find indeed. The bright beads and lace look Mexican-inspired, and the two circles on the chest almost look like Dia De Los Muertos skull eyes. Would anyone happen to know if this was ever on a runway collection?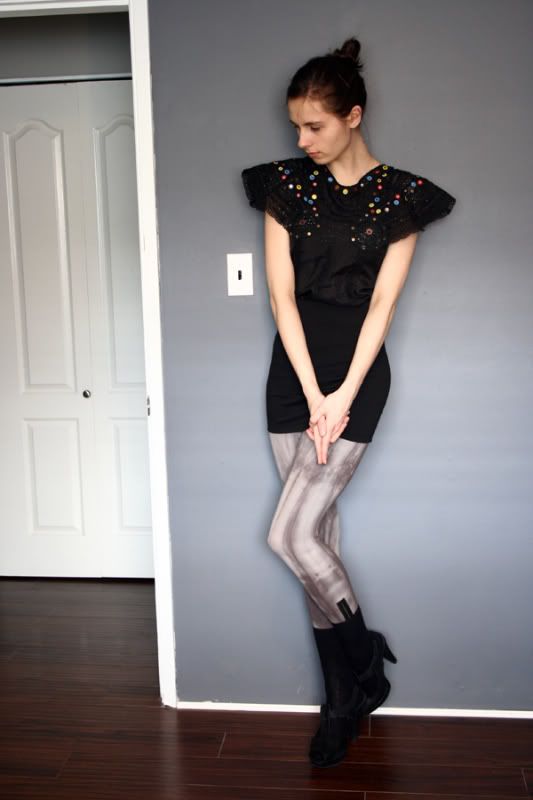 Wearing a Tsumori Chisato top, Urban Behaviour skirt and tights, Topshop heels.