Continuing on with my bold pattern and shoe obsessions... introducing a line of hand painted leather shoes by the Brazilian label Neon. The shoes are made from scraps of painted cow-skin that the label's co-designer Dudu Bertholini has picked up while traveling. I love their sleek shape and slight heel. They're pretty unisex. I can see them worn with outfits of all kinds: skinnies, floaty skirts, long and short. Does anyone know of a type of paint that would withstand wear and tear from being placed on shoes? This would be a fun summer project.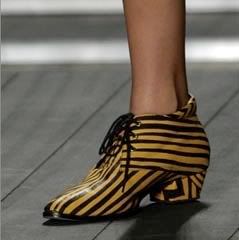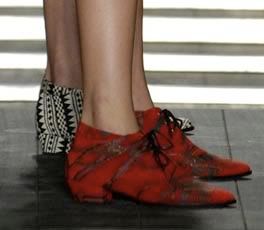 Images from coolhunter.com

They strongly remind me of a pair of Yohji Yamamoto boots I was admiring from the SS 2008 collection.



Image from style.com